Johnny & the Bootlegs celebrate the excess of NYC nightlife with "NYC Woman"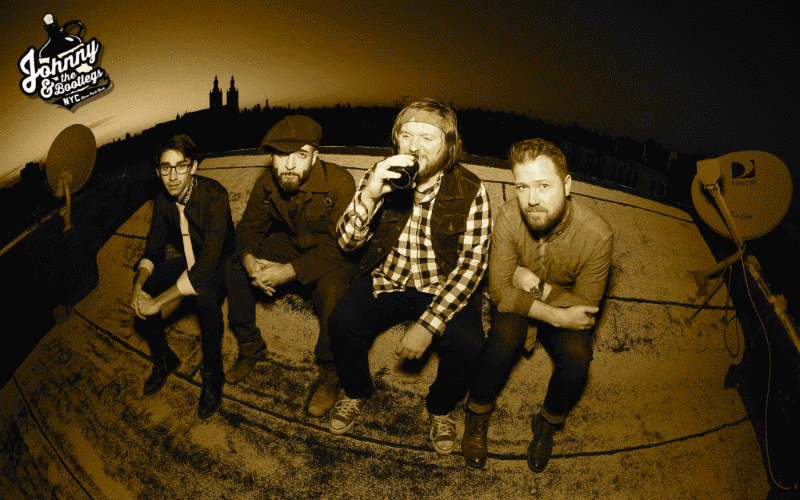 Tearing into the fabric of New York City nightlife, blues-punk rock band Johnny & the Bootlegs present the single "NYC Woman" today. With a blend of gritty yet heartful, soul-inspired rock n' roll, the track provides an unfiltered glimpse of the 'city that never sleeps'. "NYC Woman" premiered yesterday on GroundSounds, who said it's "a fist-in-the-air mix of gritty and catchy, and is a welcome sound for anyone itching for good old fashioned rock n' roll." The single had its radio debut on Q104.3/ iHeart Radio's "Out of the Box" show earlier this week and comes off the band's upcoming EP NYC Rags, scheduled for release on May 11, 2018.
Full of melodic hooks and anthemic, party vocals, "NYC Woman" takes an unabashed dive into the fast-paced, vibrant, and spectacular adventure of NYC nightlife. It's about longing for love in an environment where the party never seems to end, and the sunrise only ushers in more of the same. Lead vocalist and guitarist John Santiago shared, "it's a direct discussion of the extremes present in NYC dating, as well as the seemingly welcomed culture of instant gratification, despite an obvious necessity for discipline within chaos." Taking you on a ride of highs and lows, the track provides an intoxicating rush of escalation. "The bridge is where conflict arises, only to be smashed away by the remembrance of good times and re-emergence of the opening verse," mused Santiago. "Everything above is just really philosophical and the song is meant to be accompanied by a beer, shot and lover to have fun with, so shut up and enjoy!"
Santiago's reflections come heavily from his time working as General Manager of the legendary New York City music venue, Webster Hall, whose doors closed in 2017. With long nights full of talent handling, crazy crowds, and sold-out shows, if one can speak for the true nature of NYC's nightlife, Santiago's rendition may not be far off. "NYC Woman" comes as the first single off Johnny & the Bootlegs' upcoming EP NYC Rags, scheduled for release on May 11. The EP was recorded at Studio G in Brooklyn, NY by engineer Jeff Berner (Psychic TV, Chris Cubeta and the Liars Club, NAAM, Heliotropes).
Johnny & the Bootlegs will celebrate with a EP release show on May 10, at Coney Island Baby in Manhattan (169 Avenue A, New York, NY 10009), along with Bash & Pop (w/ Tommy Stinson) and Liza Colby Sound. "NYC Woman" is available for stream and purchase now on Spotify, iTunes, Bandcamp, and all major digital retailers.